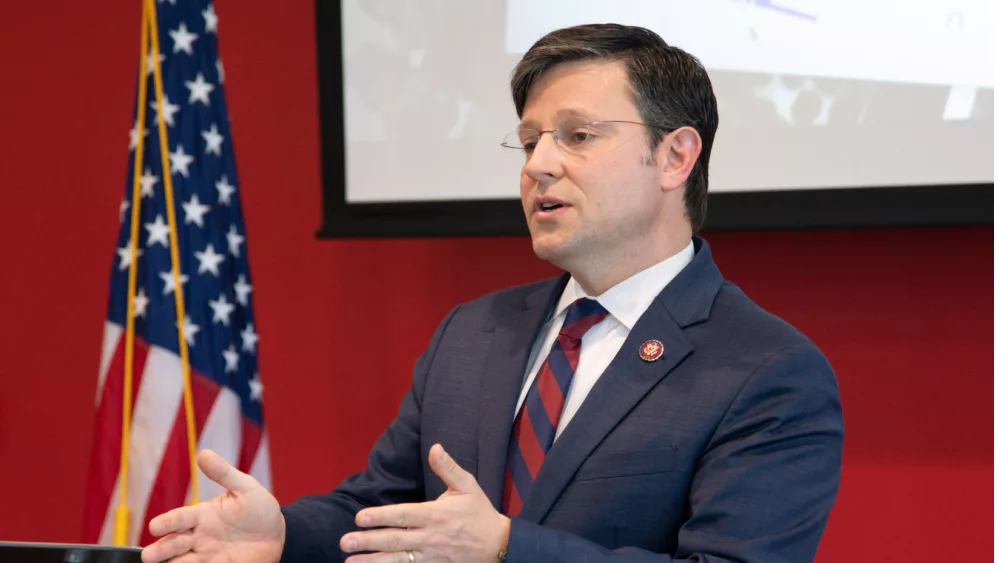 Republicans have chosen their fourth House Speaker candidate, Rep. Mike Johnson, R-La., in a secret-ballot vote Tuesday evening. Johnson was selected the party's new nominee after multiple rounds of voting, and after Rep. Tom Emmer of Minnesota dropped his bid for the position. The House has been without a speaker for three weeks after former House Speaker Kevin McCarthy of California was ousted from the leadership role.
Johnson received 128 votes in the final round during the 8 p.m. EDT meeting, with Rep. Byron Donalds, R-Fla., getting 29 votes. Five speaker candidates made their pitches to the conference before voting began — Rep. Chuck Fleischmann, R-Tenn., was the first candidate knocked out of the running, followed by Rep. Roger Williams, R-Texas, in the second round of voting. Rep. Mark Green, R-Tenn., dropped out after Williams was eliminated.
House Majority Whip Tom Emmer, R-Minn., won multiple rounds of voting earlier in the day to become the party's third nominee before being forced to drop his bid just three hours after GOP members chose him, in the face of staunch opposition from within the conference, as well as former President Donald Trump.
Twenty-six Republicans reportedly either voted present or for another candidate, indicating that Emmer was far from the 217 votes needed to win. After meeting with holdouts on Tuesday afternoon, Emmer stepped aside.
Johnson, 51, was elected to Congress in 2016 and has avoided making political enemies in the House. Johnson is a lawyer specializing in constitutional issues, he had rallied Republicans around Trump's legal effort to overturn the 2020 election results. To secure the speakership, Johnson will need to win at least 217 of the 221 Republican votes. It remains unclear if Johnson can get to 217 to break the GOP stalemate. A floor vote could happen as early as Wednesday afternoon
Republicans are now faced with trying again to choose a new speaker who can credibly unite the GOP majority, lead the party and get the U.S. Congress working again.
Editorial credit: Al Mueller / Shutterstock.com