They dedicate their lives to making life better for the rest of us. They get no recognition, no parades, no fortune or fame. Why do it? Because "Greater love hath no man than this, that he would lay down his life for his friend". They do it out of love. Here's to Detroit's Hometown Heroes.
Minister Rev. Dr. Dorgan Needom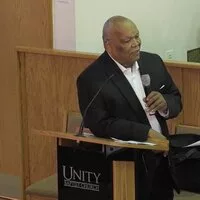 Detroit will never forget Minister Rev. Dr. Dorgan Needom.
Rev. Dr. Needom served for over 50 years as Musical Director of Unity Baptist Church of Detroit. Teacher and mentor to countless Gospel music greats, Dr. Needom will always be remembered by the Detroit church community he served faithfully.
Dr Dorgan J. Needom: a true Detroit Hometown Hero.
Detroit Fire Department Senior Lieutenant Francis Dombrowski
Detroit Fire Department Senior Lieutenant Francis Dombrowski, a 29-year veteran of the department, is remembered by his friends and colleagues as an excellent firefighter and compassionate person.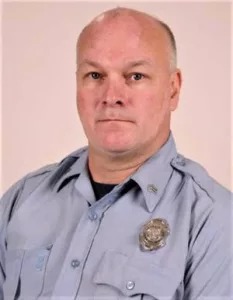 Deputy Fire Commissioner Dave Fornell said the entire fire department is mourning the loss of "a great firefighter, a great leader and compassionate person.
"He'd be the first one to step up and help, whether it was a friend or stranger," said Detroit Fire Department Lieutenant Dave Miller.
Dombrowski, 55, who passed is survived by his wife.
Miller and Dombrowski, a Detroit native, met 27 years ago and were at the same ladder, working on the same schedule, for years. They won a commissioner's citation together for rescuing an unconscious resident in a house fire in 2010. Dombrowski won a medal of valor in 2018.
Miller described Dombrowski as an aggressive firefighter, he was "always the first one in and the last one out."
"He was never good for a short phone call, always a long phone call," Miller said. "I'm going to miss that".
Bishop Phillip Aquilla Brooks
The Church of God in Christ mourns the passing of Bishop Phillip Aquilla Brooks, 1st Assistant Presiding Bishop of the Church of God in Christ. He passed on April 9th, 2020.
As First Assistant Presiding Bishop and Prelate of the Historic Northeast First Ecclesiastical Jurisdiction of Michigan, Bishop P. A. Brooks was the longest-serving General Board Member in the Church Of God In Christ, Inc. – spanning over 40 years. Brooks also was the first Chief Adjutant of the Church of God in Christ (COGIC), appointed by the late Presiding Bishop J. O. Patterson, Sr.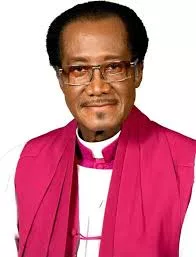 Brooks was beloved and endeared throughout Christendom. Known as "Mr. Church Of God In Christ," he ministered with dedication, devotion, and the spirit of excellence. He was the founder and pastor of the New St. Paul Tabernacle Church Of God In Christ for over 63 years. He held office from the time of COGIC Founder Bishop Charles Harrison Mason to the current Presiding Bishop, Bishop Charles Edward Blake, Sr.
DPD Police Captain Jonathan Parnell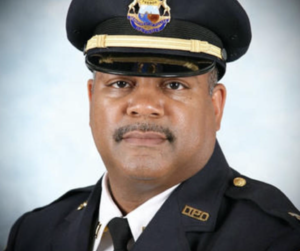 A Detroit police captain has died from coronavirus. Capt. Jonathan Parnell, who went by the nickname "Recon," headed homicide based out of headquarters. Over his 31-year career, he worked in homicide, sex crimes, child abuse and narcotics.
Wayne County Dept. Commander Donafay Collins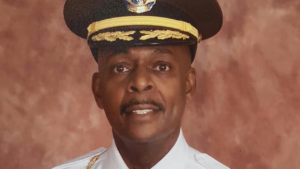 The Wayne County Sheriff's Office says a member of the command staff has died of the coronavirus. Commander Donafay Collins died on Wednesday at the age of 63. He was a member of the Sheriff's Office for almost 30 years.
U.S. Air Force Airman Emonte J. Durr graduated from basic military training at Joint Base San Antonio-Lackland, San Antonio, Texas.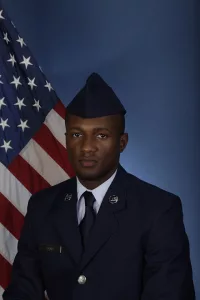 The airman completed an intensive, eight-week program that included training in military discipline and studies, Air Force core values, physical fitness, and basic warfare principles and skills.
Airmen who complete basic training also earn four credits toward an associate in applied science degree through the Community College of the Air Force.
He is a 2014 graduate of Southfield Lathrup High School, Southfield, Mich.
Police Officer Darren Weathers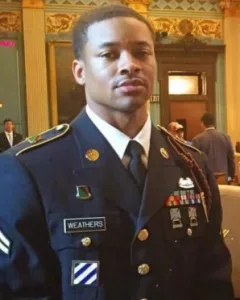 Police Officer Darren Weathers was killed in a vehicle crash on Michigan Avenue, near Clark Avenue.
He was participating in a surveillance training exercise when his vehicle collided with another before striking a utility pole. Officer Weathers was transported to Henry Ford Hospital where he succumbed to his injuries.
Officer Weathers was a U.S. military veteran and had served with the Detroit Police Department for almost two years. He is survived by his wife and daughter.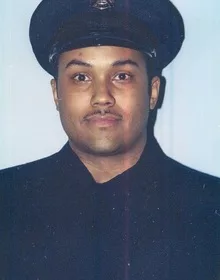 Anthony "Tony" Castone, a Detroit Firefighter, was killed by a drunk driver. He leaves a wife of 17 years and 3 children. Tony was 41 years old and on leave from the fire department due to a prolonged disability, but was planning to return in March after physical therapy.
Castone's is remembered as a great firefighter and community servant who once saved a badly burned baby and then donated his own skin to help him. Castone's wife, Laura, said he gave the gift of life after his death and donated his skin, tissue and organs.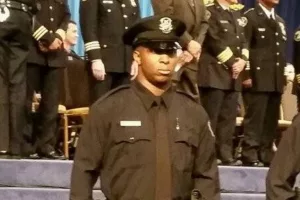 Glenn, a Detroit police officer, was tragically shot in the line of duty. After fighting hard for about a week, Glenn passed away on Sunday, Jan. 28th. Glenn was just 25 years old, and is survived by a nine-month old son Eli and his girlfriend, Emily, of nine years.
"He fought a good fight. He is truly what we call one of Detroit's finest. He is what we call an American hero. He did what we expect each and every officer to do: Go out and serve this community with distinction and honor." – Detroit Police Chief James Craig.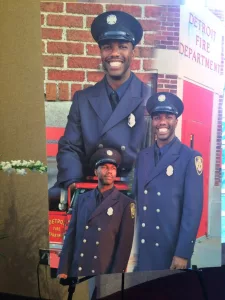 Lived: 04/01/1978 to 11/18/2017
Served: 09/09/2002 to 11/18/2017 DFD
ACTIVE Firefighter, E-44 (Served on Engine 44), ladder 18; Keion served the Detroit community as a firefighter, at time of death he was just 39 years old. He left wife Valencia and 2 children, a beautiful girl, Kamiah, 13, and Keion Jr, 9, the image of his daddy…