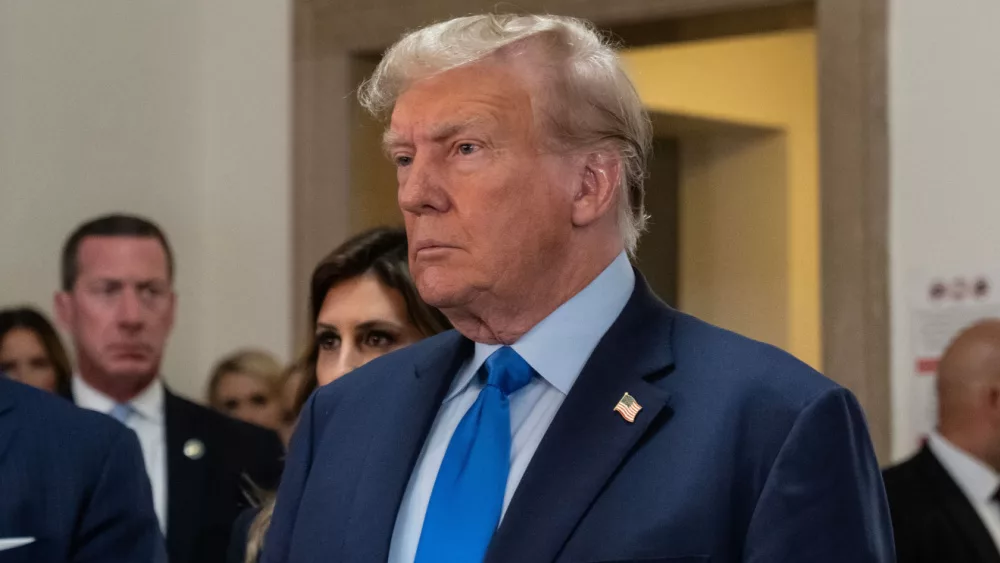 The judge in former-President Donald Trump's business fraud trial in New York City issued a partial gag order on Tuesday, after Trump blasted the judge, his top law clerk and New York Attorney General Letitia James in a post on social media. James has accused Trump, his two adult sons Donald Trump Jr. and Eric Trump, of fraud, claiming that the Trump organization inflated the values of his real estate properties by more than $2 billion to gain tax benefits and secure favorable loan and insurance terms. James is seeking $250 million in damages, as well as a ban that would keep Trump and his family from doing business in New York.
New York State Supreme Court Justice Arthur Engoron issued the order on the second day of the civil trial, after Trump posted a photo of court clerk Allison Greenfield with Senate majority leader Chuck Schumer, D-N.Y., on his Truth Social site on Tuesday morning with the caption "Schumer's girlfriend." Trump, who argued that his case should be dismissed because she is "running this case against me," removed the post several hours later.
Judge Engoron announced Tuesday afternoon: "Consider this a gag order on all parties with respect to posting or publicly speaking about any member on my staff. This morning one of the defendants posted on a social media account a disparaging, untrue and personally identifying post about a member of my staff. Although I have since ordered the post deleted and apparently it was, it was also emailed out to millions of other recipients. Personal attacks on my members of my court staff are unacceptable, inappropriate and I will not tolerate them under any circumstances," threatening nonspecific "serious sanctions." The limited gag order bans any emails, posts or public remarks about the judge's staff.
The former president has criticized Engoron as a "far-left Democrat" and has accused him of political bias, also claiming Engoron is trying to hurt him politically. Trump told reporters Tuesday that the judge is a "Trump-hater" and trying to "interfere with an election and it's a disgrace." Trump has also blasted New York Attorney General Letitia James, calling her a "fraud" and saying "she should probably be dismissed also… she used this to run for governor. She failed in her attempt to run for governor. She had virtually no following. She came back and she said, 'Well, now I will go back to get Trump again.' And this is what we have. It is a scam and a sham."
Editorial credit: lev radin / Shutterstock.com