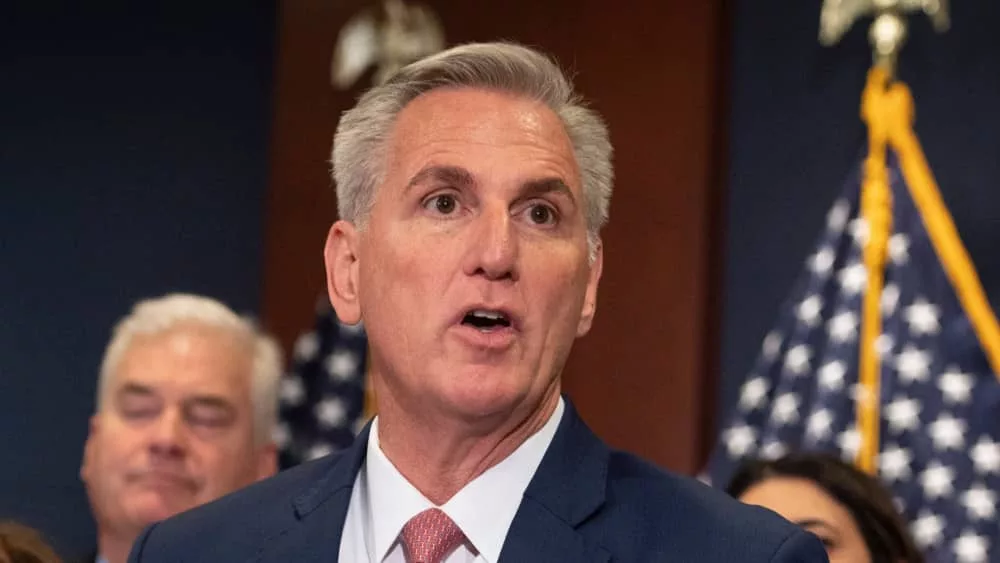 The House of Representatives voted on Tuesday afternoon to remove Speaker Kevin McCarthy, R-Calif., from his leadership position. The House voted 216-210 to oust McCarthy, with eight Republicans joining Democrats to remove him, and seven members absent. It is the first time in U.S. history that a House speaker has been removed in a no-confidence vote.
Republican Rep. Steve Womack of Arkansas, who was presiding over the chamber, said: "The office of Speaker of the House of the United House of Representatives is hereby declared vacant."  The House is now in recess while members meet to decide how to proceed forward. Rep. Patrick McHenry of North Carolina, Financial Services Chair and a top McCarthy ally, was then appointed speaker pro tempore. The rules of the 118th Congress state that "in the case of a vacancy in the office of speaker, the next member" named on a list submitted by McCarthy to the clerk of the House in January will become speaker pro tempore in the event of a vacancy. After House Republicans met Tuesday night as a conference to discuss their next steps. McCarthy told his colleagues he would not run for speaker again.
McCarthy can be renominated and reelected as speaker, but that path seems unlikely. Rep. Matt Gaetz, R-Fla., who led the effort to remove McCarthy, told reporters after the vote: "Kevin McCarthy has made multiple contradictory promises, and when they all came due, he lost votes of people who maybe don't even ideologically agree with me on everything. This represents the ripping off of the Band-Aid and that's what we need to do to get back on track." Seven Republican in addition to Gaetz voted to oust McCarthy — Reps. Andy Biggs of Arizona, Ken Buck of Colorado, Tim Burchett of Tennessee, Eli Crane of Arizona, Bob Good of Virginia, Nancy Mace of South Carolina and Matt Rosendale of Montana. For weeks, Gaetz had threatened to call a vote to expel McCarthy if he passed a short-term government funding bill relying on Democratic votes. When McCarthy did just that last weekend to avert a shutdown, Gaetz moved to oust him. Gaetz has consistently opposed McCarthy's speakership, and was among those who helped draw out the process of electing him speaker to a record 15 rounds of voting. In order to win over far-right Republicans, McCarthy agreed to a condition making it possible for a single member to motion to oust the speaker.
The speaker of the House is also second in line for the presidency, and ousting a sitting speaker by vote in the middle of a congressional term is unprecedented in American history. Democratic leadership members had urged their caucus to vote "yes" on the motion to vacate.
Up until the vote, McCarthy had expressed confidence to reporters that he would prevail: "I'm an optimist because I think there's no point in being anything else," McCarthy said.
Editorial credit: Consolidated News Photos / Shutterstock.com