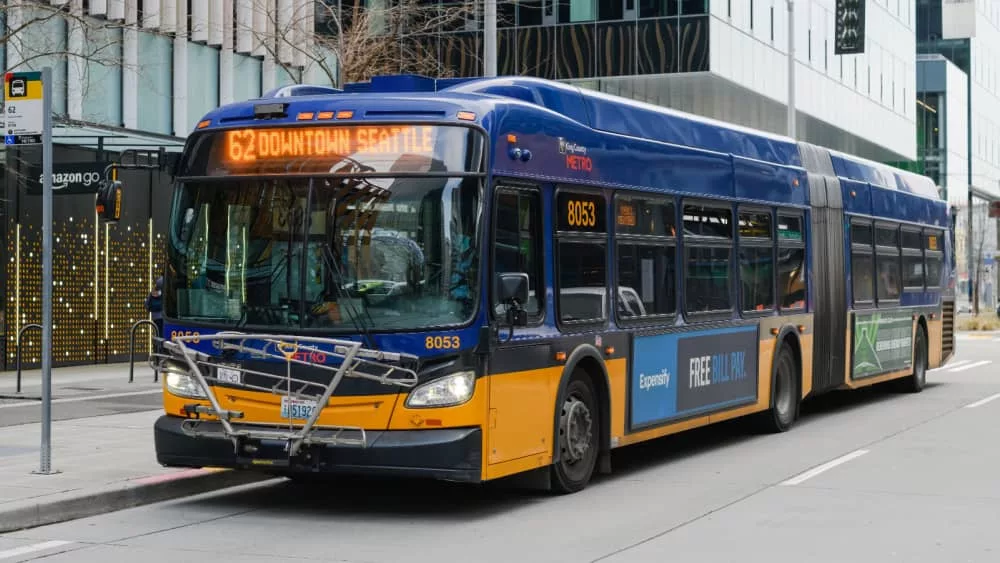 Authorities say that a Metro city bus in Seattle crashed into a building on Saturday afternoon after a collision with another vehicle, killing one woman who was outside, as well as injuring 12 others.
According to a release from the Seattle Police Department, the fatal crash happened around 3:30 p.m. at the intersection of 5th Avenue and Battery Street in the Belltown area when a red sedan collided with the King County Metro Bus and sent it careening off the road and into the building. Seattle Police said it appears the driver of the red sedan was heading south on 5th Avenue before crashing with the Metro Bus, which was eastbound on Battery Street.
A female pedestrian was found dead outside the building, police said, adding that the bus had struck her as it came to a stop after leaving the road. Eleven passengers on the bus, including the driver, sustained non-life-threatening injuries from the collision and were in stable condition, with eight of them hospitalized. The Seattle Fire Department said that the driver of the sedan, a 31-year-old man, was pulled out of the car by firefighters and taken to a hospital in critical condition  No one was inside the part of the building the bus crashed into, and there was no significant structural damage to the building.
The cause of the crash is now being investigated by police, with a release stating: "A Drug Recognition Expert officer will evaluate the male driver of the sedan for any signs of impairment."
Editorial credit: Ian Dewar Photography / Shutterstock.com