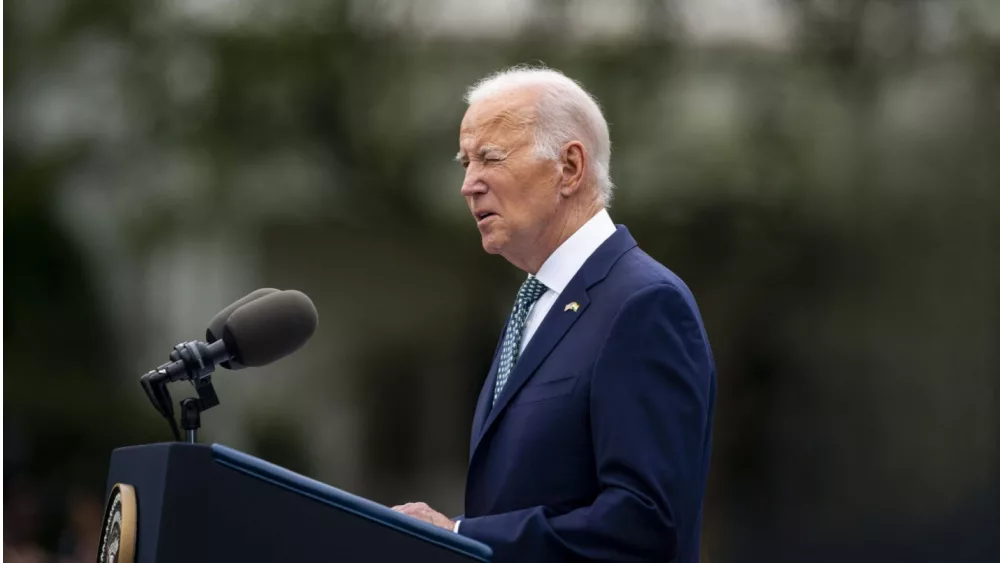 On Wednesday during his trip to Tel Aviv, President Joe Biden pledged his support for Israel, and expressed agreement with Israel that their military was not responsible for the deadly blast at a Christian-run hospital in Gaza City that is estimated to have killed hundreds.
Hamas blamed an Israeli airstrike for the disaster at the Al-Ahli al-Arabi hospital, which Gaza health officials said killed 500 people. However on Wednesday morning, the Israel Defense Forces (IDF) published evidence that it claimed showed that a failed rocket launch from inside the enclave was to blame, with Biden saying U.S. intelligence led him to believe Israel was not at fault. Speaking alongside Israeli Prime Minister Benjamin Netanyahu, Biden said: "based on what I've seen, it appears as though it was done by the other team, not you," later adding that he'd drawn that conclusion based on "the data I was shown by my Defense Department." Biden said in a second speech later that day: "Like the entire world, I was outraged and saddened by the enormous loss of life yesterday in the hospital in Gaza," and reiterated that the blast "appears the result of an errant rocket fired by a terrorist group in Gaza. The United States unequivocally stands for the protection of civilian life during conflict." Adrienne Watson, a spokesperson for the White House's National Security Council, elaborated on X (Twitter) that the assessment was based on "analysis of overhead imagery, intercepts and open source information."  According to two senior U.S. officials, the U.S. has an independent assessment that it was a Palestinian Islamic Jihad group rocket that misfired and hit the hospital in Gaza.
Mustafa Barghouti, leader of the Palestinian National Initiative, later slammed Biden for siding with Israel's version of events, telling CNN: "Biden cares only about one thing, which is to be re-elected, and that's why he's taking the side of Israel. He's believing Israeli lies like the lie of decapitation of children, which was never verified, or the lie of raping women, which was never verified and they continue—now this lie that Palestinians killed themselves."
Biden also announced $100 million in new U.S. funding for humanitarian aid in both the Gaza Strip and the West Bank, and stressed his support for Israel amid its ongoing war with Hamas: "State of Israel was born to be a safe place for the Jewish people in the world. Long said, if Israel didn't exist, we'd have to invent it. While it may not feel that way today, Israel must again be a safe place for the Jewish people. I promise you, we're going to do everything in our power to make sure there will be."
The president also acknowledged that Palestinian people are suffering as well, and that he mourns the loss of "innocent Palestinian lives like the entire world … The vast majority of Palestinians are not Hamas. Hamas does not represent the Palestinian people. Hamas uses innocent families in Gaza as human shields, putting their command centers or weapons or communications tunnels in residential areas."
Biden landed in Tel Aviv on Wednesday to demonstrate U.S. solidarity with Israel; he was greeted by Israeli Prime Minister Benjamin Netanyahu on the tarmac at Ben Gurion International Airport, where the two leaders shook hands and embraced. Biden initially planned to meet with Arab leaders at a summit hosted by Jordan's King Abdullah in Amman, but the event was canceled following the explosion.
Editorial credit: Muhammad Aamir Sumsum / Shutterstock.com